Hinchinbrook Island Ferry Services
by Absolute North Charters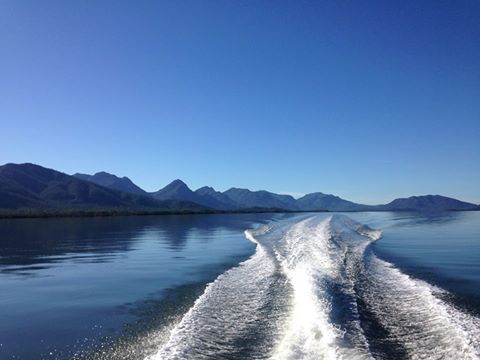 Based in Lucinda, we operate a ferry service from Lucinda to Hinchinbrook Island and nearby islands.
Hikers doing the Thorsborne Trail particularly appreciate our deep local knowledge and dedication to their needs, which is why we are based at Lucinda.  Regardless of whether you are coming from North (Cairns) or South (Townsville), Lucinda with it's much more accessible tidal conditions is by far superior to  any other port to get to and from Hinchinbrook Island.
Adding to this, Lucinda is only ten nautical miles to the waterfalls at Zoe Bay, which makes it a great place for your day trip departure and returns.
All information can be found on our main website, Absolute North Charters.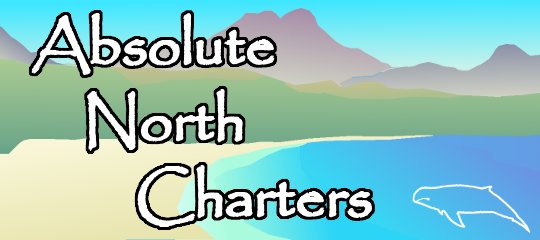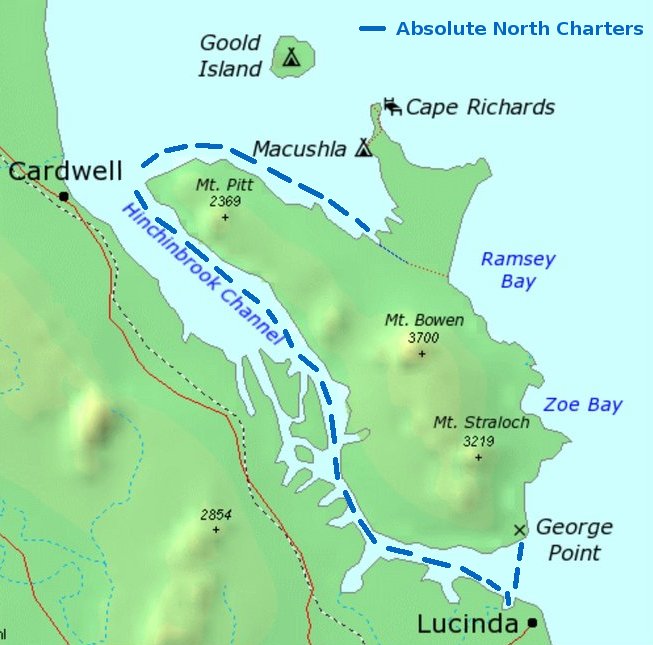 NOTE: We can transfer you to/from Ramsay Bay (Northern end) and George's Point (South End of Thorsborne Trail). You may prefer to use us for your transfers because whether you walk north-south or south-north, you can leave your vehicle in Lucinda where there is safe parking, and we manage both water-borne parts of your journey. (We are the first ferry service to implement this more scenic, convenient, and cost-effective transfer for Thorsborne trail walkers.)
Cancellation Policy
We give a full refund for whatever reason that you cannot hike the trail.
However, you must cancel your camping permit for the dates you have previously booked well before your departure as it is imperative that other people have the chance to fill vacated positions on the trail.
Our cancellation policy is aligned with Parks & Wildlife.  You then need to forward your confirmation email of your cancellation from National Parks to Absolute North Charters at least TWO FULL DAYS (48 hours) BEFORE your booked departure in order to be eligible for a refund.
If National Parks themselves close the park we waive the need for you to forward their cancellation confirmation.
There is a fixed number of permits issued for people allowed on the trail at any given time. So please consider other people's desire to hike the trail in the event you need to cancel.
Check Permit Availability
Click Here to open the Parks Permits area. Opens in a new tab so you can refer back here for further instructions
Ignore the first row, and go to Select park.  Tip: type "hinc" into the field and you can easily select "Hinchinbrook Island NP, Thorsborne Trail" (but not "Hinchinbrook Island National Park")
Select your preferred start date
Hit "Search"
Scroll down and click on the Green Button that says "Check Availability"

A popup will appear showing 3-14 days depending on your device, starting with the date you selected. Find your preferred dates that are available, or change the date and hit the search button.  Proceed to booking when you find "your" dates.
"Thorsborne Trail" App…
This is the ONLY app for hikers either walking or thinking of walking the iconic Thorsborne Trail.
Click/Tap Here for more details
Department track notes – Tide charts – GPS tracking – Water sources – Tidal creek crossings.  And many other features.
Don't leave home without it!
Ready to book?
Simply choose your preferred transfer and click on the plus symbol. (+)
Thorsborne Trail Return Transfers
Start from Lucinda, walk North to South, and return to Lucinda (Recommended) - $175
Outbound: Lucinda to Ramsay Bay
Inbound: George Point to Lucinda
ADULT (17+) $175
CHILD (5-16) $165
Toddler (0-4) Free
Recommended: the most enjoyable and cost-effective way to experience the Thorsborne Trail
Start from Lucinda, walk South to North, and return to Lucinda - $175
Outbound: Lucinda to George Point
Inbound: Ramsay Bay to Lucinda
ADULT (17+) $175
CHILD (5-16) $165
Toddler (0-4) Free
Lucinda to South end and return South to Lucinda - $125
Outbound: Lucinda to George Point
Inbound: George Point to Lucinda
Suits short-term hikers to Mulligans Falls & Zoe Bay
ADULT (17+) $125
CHILD (5-16) $115
Toddler (0-4) Free
Day Trips - $155
Lucinda to ???
??? to Lucinda
Adult (17+)  $155
Child (5-16)  $100
Please contact John before booking a Day Trip, as tides and weather make each trip different, and John would like to explain to you how the trip works for your chosen date.
Click "Other Trips" below for phone, email and convenient voice message.
Want a custom transfer? Click here!
If you have not found the transfer you were looking for, please contact us.
We often put together special packages for researchers, school groups, etc.
Chances are we can work out something to help you.
Email: Email John
Phone or SMS (text message): 0419 712 577
Or simply leave a voice message (works best with Chrome/Safari)…